Memorial Dog Paw Personalized Solar Light: Dog Memorial Metal Wall Art
Memorial Dog Paw Personalized Solar Light: Dog Memorial Metal Wall Art c/w Solar Light + Copper Plaque Custom Engraved Made By Practical Art
Memorial Dog Paw Personalized Solar Light: Dog Memorial Metal Wall Art c/w Solar Light + Copper Plaque Custom Engraved Made By Practical Art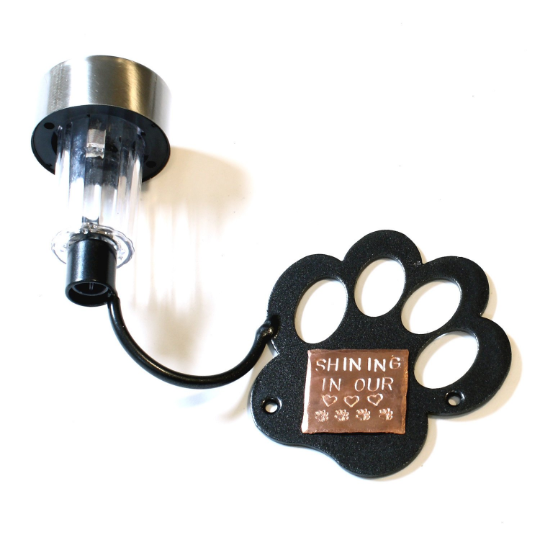 Pet dog commemorative metal art piece.
As dog owners and lovers, we understand how difficult it is to lose a pet- an unconditional best friend. Our pets become part of our family and we remember them our entire lives. This dog remembrance memorial piece is the ideal way to celebrate and recognize the deep impact they have had on our lives.
 The wall-mounted metal paw print is laser cut to maximize detail and to increase the character of the piece. What sets this piece apart is the care taken in the handcrafted workmanship. The grey powder coat finish allows each pet memorial to shine through all the seasonal elements, as it is suited for both indoor and outdoor use, with durable rust protection and resistance against chips and scratches.
Boasting a high output solar-powered LED light welded to the metal paw print, your pet's memory will shine brightly and forever remind you of your special family member. The attached solar light will always serve as a reminder that they will forever shine in our hearts. Your pet dog warrants consideration of this extraordinary  Memorial Gift.
$39 Name Personalized plate to accommodate your pet's name.

$49 Custom Stamp Plate, 4 lines, up to 25 characters, including spaces.
Go to view cart and type name of pet in "note to seller" text box.

Approx. Dog Memorial Size: 5 inches x 7.5 inches or about 13 centimetres x 19 centimetres.  Solar light extends approx. 3.5 inches from the wall or just under 9 centimetres.
Materials: Metal, Steel, Solar Lights, Copper, Black Steel, Rust-protected, Solar Light, Ornaments