Metal Art Butterfly Family: Buy Wall-mounted Metal Butterflies Online!
Metal Wall Art Butterfly
Metal Wall Art Butterfly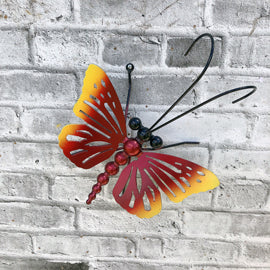 Butterfly Metal Wall Art! Add some fun and beautiful accents to the interior or exterior of homes, offices and other spaces with these little critters that are designed with superior craftsmanship and finished with an advanced industrial coating that offers full rust protection. This metal art butterflies offers superb character to an entrance, in a washroom, or around a deck. Elegant and timeless design this beautiful metal bug can be easily mounted to walls, fences, or decks. Made with high grade steel and solid ball bearings top quality is further ensured in the laser cut wings to maximize detail. 
Metal Butterfly Approx. Size: 15" x 12" x 6.5"